About TNC

The Northern Charter
5th Floor
Commercial Union House
39 Pilgrim Street
Newcastle, NE1 6QE

thenortherncharter@gmail.com

Project Space open during events only
Contact/Location

Mailing List
Description

Studio Holders

Studios Available


The reading group
18 Crazy Angels
October

Friday 7th 6-10pm
Saturday 8th and Sunday 9th 11am-4pm

Giles Bailey & CIRCA Projects
FRIEND, YOU STAND ON SACRED GROUND...
THIS IS A PRINTING OFFICE


Drop in at any time to our workshop – an experimental digital print room within
The Northern Charter project space & library.

In the spirit of a famous broadside by Beatrice Warde (1900-1969), celebrating the eloquence and power of the printed word: digital collages will be developed by Giles Bailey & studio-holders CIRCA Projects with collaborators visiting the print room each day.

Visitors are welcome to spend time browsing research content, videos and a specially curated reading room. Then work with Giles Bailey & CIRCA Projects to re-imagine archival images, texts, and video as digital posters in Photoshop.

These visuals will be projected onto a sculptural stage-set made by artist Eleanor Wright: an installation changing with the course of the workshops. These poster designs will then be printed and distributed around Newcastle in venues, cafes and bars – acting as footnotes for future artworks to be developed by Giles Bailey & CIRCA Projects for the North East.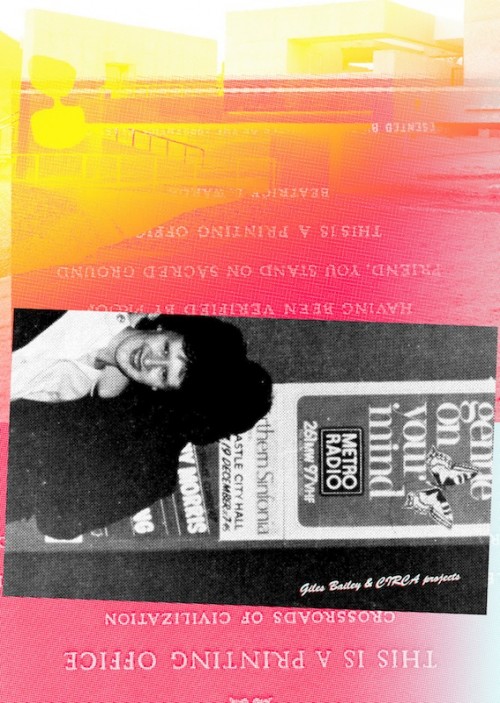 20



2016
2014
2013
2012
2018
2019
Images/Blog
Women Artists of the North East Library
2015
2017