About TNC

The Northern Charter
5th Floor
Commercial Union House
39 Pilgrim Street
Newcastle, NE1 6QE

thenortherncharter@gmail.com

Project Space open during events only
Contact/Location

Mailing List
Description

Studio Holders

Studios Available


The reading group
18 Crazy Angels
Thursday
08 October
7.30pm

Loom
LOOM
An evening of performance exploring interaction and conversation, featuring two works: FOREST and TO SUIT.
FREE.

FOREST
A performance by the artist collective 'Late to the Conversation'. Combining movement, text and sound 'FOREST' uses narrative as a foundation for part-improvised movement, building story, and character.

Performers: Charlie Dearnley, Peter Kerry Forbes, Lizzie J Klotz, Alys North
Musicians: Jamie Cook, Stevie Jackson
Artistic Director: Charlie Dearnley

TO SUIT
A dance-theatre exploration of relationship and human interaction through an analysis of the ritualistic behaviour of birds. 'TO SUIT' explores the use of body language, instinct and ritual as a means of conversation. Commissioned by Dance City and supported by Arts Council England.

Performers: Charlie Dearnley & Alys North
Choreography: Lizzie J Klotz



DOORS: 7.30
PERFORMANCES START: 8pm

---

WORKSHOP
There will also be a FREE Workshop led by Charlie Dearnley and Jamie Cook on Friday 9th October, 1pm - 4pm in Space Six, Commercial Union House. Using the text from FOREST, we will explore character and interaction, building movement styles and working with improvisation to explore themes of home and belonging. This workshop is open to artists, performers and dancers alike.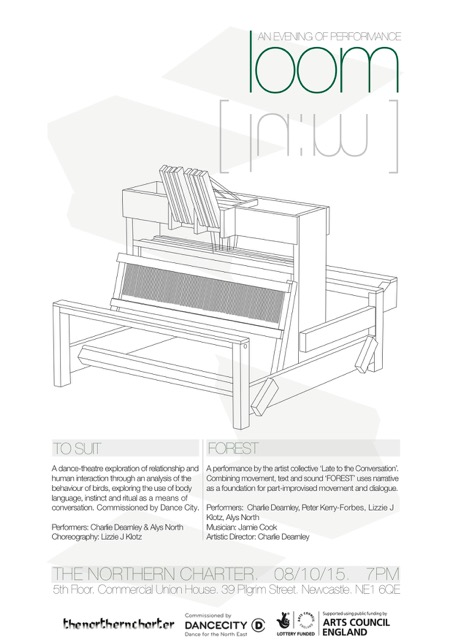 20



2016
2014
2013
2012
2018
2019
Images/Blog
Women Artists of the North East Library
2015
2017