About TNC

The Northern Charter
5th Floor
Commercial Union House
39 Pilgrim Street
Newcastle, NE1 6QE

thenortherncharter@gmail.com

Project Space open during events only
Contact/Location

Mailing List
Description

Studio Holders

Studios Available


18 Crazy Angels
2015



30 January 2018

Between November 2017 and February 2018 CIRCA Projects invited a number of guests who take interesting and unique approaches to working with archival material, rethinking the contemporary by moving away from dominant narratives in history. Guests shared and discussed their work alongside recent artworks made by Giles Bailey & CIRCA Projects.


Rene McBrearty:

"I use sculpture, drawing and performance to explore feelings of anxiety and powerlessness within one's own body. I use my sculptures as cues and props. Personified, they become my characters; bitumen is pulled apart, stretched until it snaps; plaster is moulded into a shape, sanded, and then polished, until it eventually breaks.

The performance is a monologue by one central character, the Artist. They incorporate these sculptural characters as understudies. The text and movements are derived from a variety of sources, such as adverts, overheard conversations, memories, cooking videos, business instruction manuals and the mechanical sounds/ actions of making art.

Within my performances speech and movements are repeated, until it becomes unclear of their original meaning or context. I use word and movement repetition as a tool to emphasise the multiplicity of meanings, both personal and universal. The lack of a clear meaning keeps the audience in suspense, from humour to alienation, confusion to stillness. It results in a mistrust towards another's language, and even that of your own".

Rene McBrearty (b. 1992, Birmingham) is currently working on Presence, a commission by Identity on Tyne, to investigate BME experience during the First World War. She also initiated the Women Artists of the North East Library, alongside Holly Argent. Rene has recently performed at: can i be me, The Northern Charter, Newcastle; One Foot in the Cradle, House of Blah Blah, Middlesborough; (film) Studio is Sudden, Giles Bailey and CIRCA Projects, The Northern Charter; X, blipblipblip, East St Arts, Leeds; and Hiatus, Holy Biscuit, Newcastle.

Image credit: Rene McBrearty performing A lesson in theology as part of Giles Bailey & CIRCA Projects: World is Sudden Part I at Berwick Film & Media Arts Festival 2016.
20



2016
2014
2013
2012
2018
2019
Images/Blog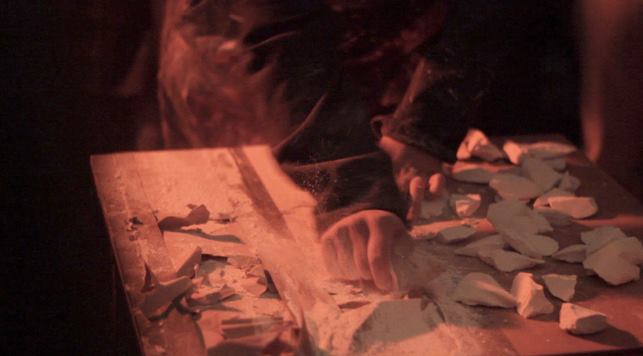 Women Artists of the North East Library
2015
2017